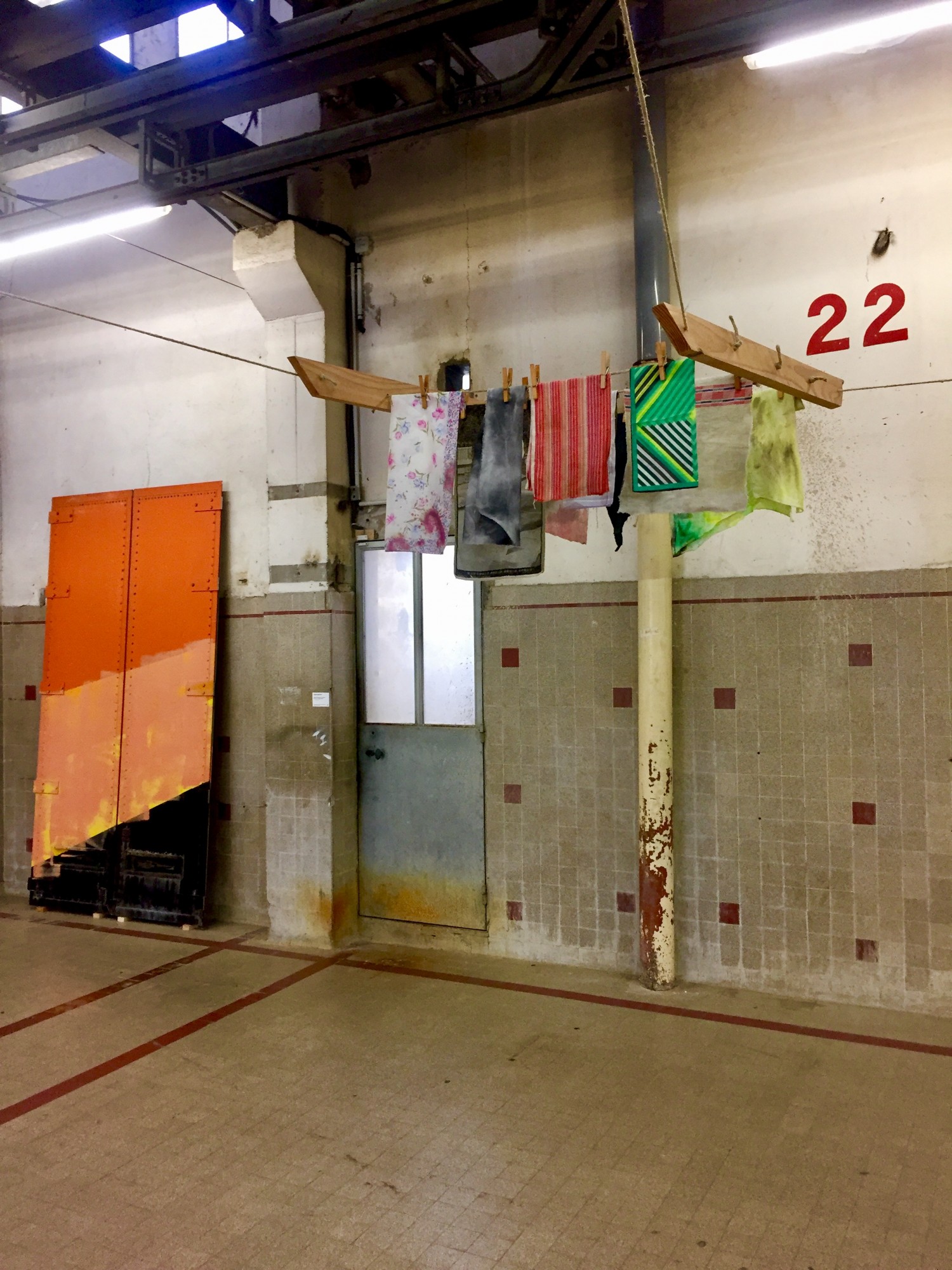 Hanging loosely from laundry lines, this early work by Nice artist Noël Dolla named Structure étendoir from 1967, speaks about the elements of painting and sculpture. Small cloths in different sizes and patterns hang from clotheslines supported by a suspended wooden frame. Like many other artists of the soon to be movement of Support/Surfaces, Dolla questions if painting is more than a stretched and supported piece of cloth and wood stretchers? Can painting become sculpture and have depth? Can art be part of daily life? Structure étendoir brings forth an association with laundry, it is a work that evokes the local character of the streets of Nice. Still today, city dwellers hang their laundry outside of their windows. This brings me to think that the back streets of Nice are actually where the art is and not in the museum. 
Further, it seems to me that this piece brings up the importance of gender in art. In 1967, it was certainly provocative for a male artist to equal painting to laundry especially as women historically had performed this chore. At the time, the work of women artist was rarely displayed in galleries; however, fresh laundry was on public display in the streets of Nice. The avant-garde art movements located in Nice, loosely grouped under the name of École de Nice, included remarkably few female artists. However, the female form was a recurrent motif and inspiration for many of these male artists. So, I wonder if a woman had presented this work would it have had the same effect? In any case, Dolla choses to use laundry, what women do, as a muse rather than what women look like draped on an exotic chair.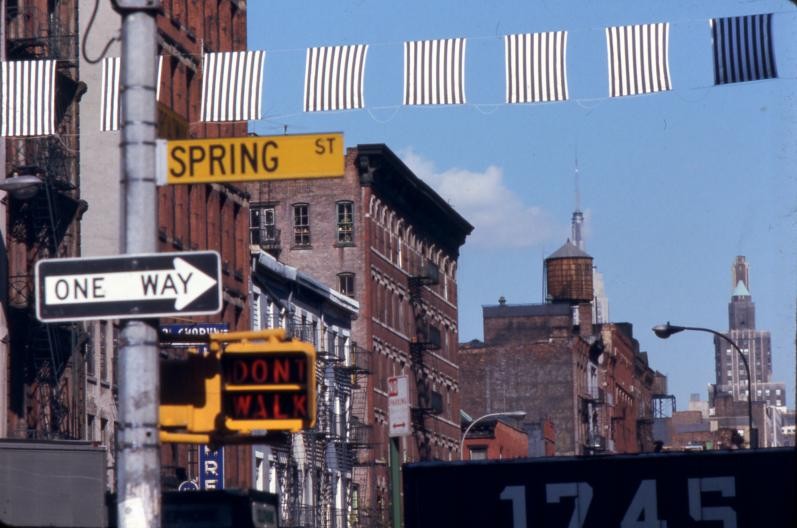 In comparison, occupying similar conceptual territory, French artist Daniel Buren installed six years later, in October 1973, a site specific work called Within and Beyond the Frame at John Weber Gallery in New York. Here, Buren displays eighteen vertically striped panels stretched on lines, top and bottom, from the inside of the gallery to the other side of the street. Nine panels placed on the inside and nine on the outside. Being dependent on the support of the building walls, its meaning is generated by its New York urban context. It could be seen as a critique of the enclosed and dominant art market in New York.
Buren's Within and Beyond the Frame feels tight, structured and militant. Maybe it is after all more closely associated with advertising banners and flags than laundry. In comparison Dolla's loosely held Structure étendoir, displays a warmth and visual poetry closely associated with the beauty of daily life. I can't help but feel that when a clothesline becomes the gallery, there are no longer any limits for the painter. The artist is free.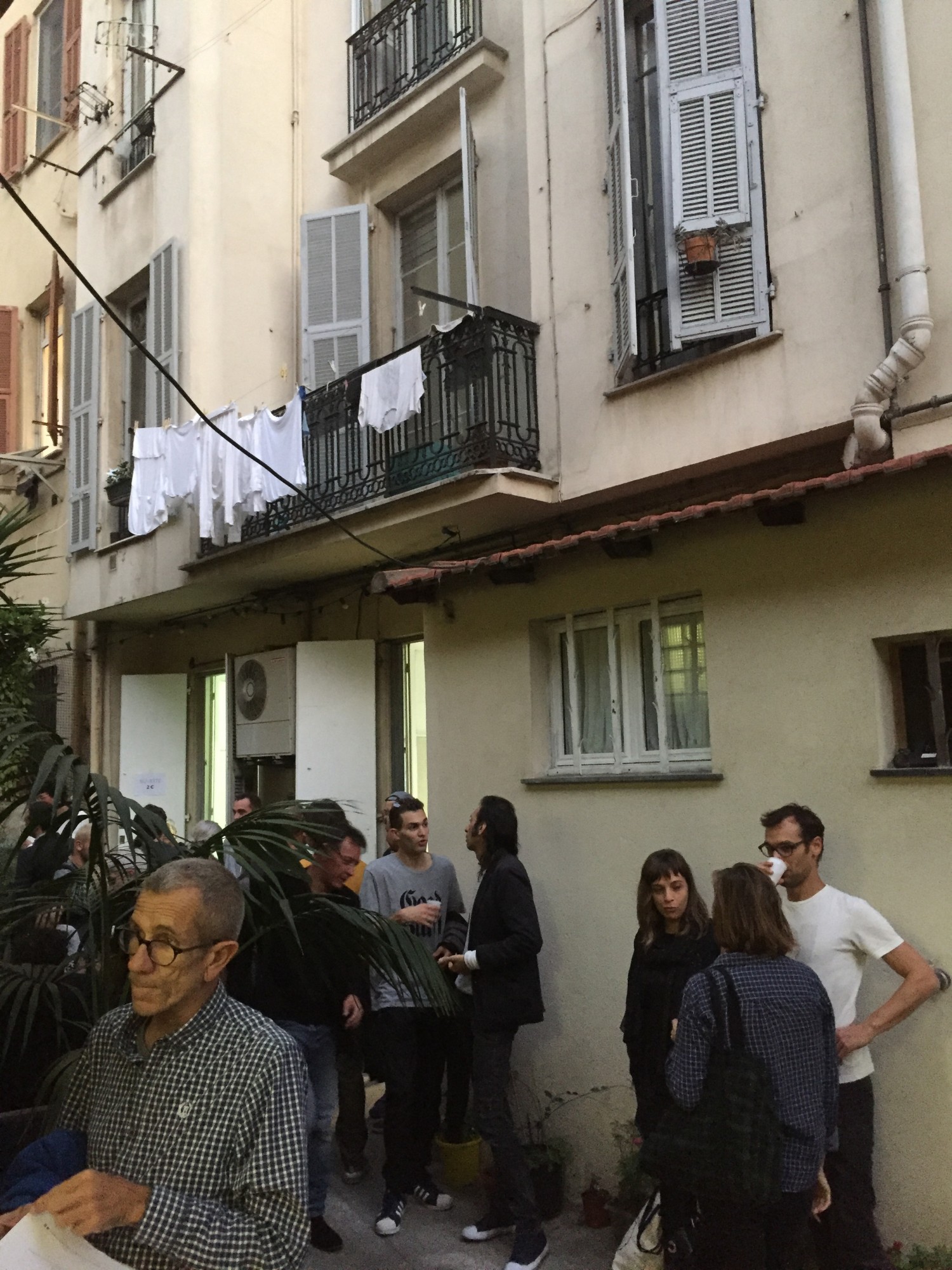 White laundry overlooking an art opening at gallery Espace à Vendre in Nice. 
Traduction en français
Librement suspendu sur des cordes à linge, cette œuvre de l'année 1967 par l'artiste niçois Noël Dolla, nommée Structure étendoir, parle des éléments de la peinture et de la sculpture. De petites toiles de tailles et motifs variables sont suspendues sur un cadre en bois. Comme beaucoup d'autres artistes du mouvement Support/ Surfaces, qui serait bientôt formé, Dolla se demande si la peinture pourrait comporter plus qu'une toile tendue supportée par des châssis en bois ? L'art peut-il participer au quotidien ?
Structure étendoir montre clairement une association avec le linge. C'est une œuvre qui évoque le caractère local des rues de Nice. Encore aujourd'hui, les citadins suspendent leur linge sur le rebord de leurs fenêtres. Ceci m'incite à croire que c'est dans les ruelles que l'art existe et non pas au musée.
En outre, il me semble que cette pièce aborde l'importance du genre en art. En 1967, c'était certainement provocant pour un artiste homme d'égaler la peinture avec du linge. Notamment car selon la tradition c'était les femmes qui faisaient cette corvée. À l'époque, le travail des femmes artistes était rarement exposé dans les galeries, cependant, le linge était présenté au public dans les rues de Nice. Les mouvements avant-gardes de Nice, vaguement regroupés sous le nom de l'École de Nice, comptaient très peu de femmes artistes parmis les membres. Pourtant, la forme féminine était un motif récurrent et servait d'inspiration pour un grand nombre de ces artistes hommes. En conséquence, je me demande si une femme avait présenté ce travail aurait-il eu le même effet ? En tous cas, Dolla choisit d'employer le linge, ce que les femmes produisent, comme muse plutôt que l'apparence des femmes drapées sur une chaise exotique.
En comparaison, occupant un domaine conceptuel similaire, l'artiste français Daniel Buren a installé, en Octobre 1973, une œuvre in situ nommée Within and Beyond the Frame à John Weber Gallery à New York. Ici, Buren déploie dix-huit panneaux à rayures verticaux tendus par des fils en haut et en bas, depuis l'intérieur de la galerie jusqu'à l'autre côté de la rue. Neuf panneaux à l'intérieur et neuf panneaux à l'extérieur. Dépendant du support des murs et du lieu, sa signification est produite par le contexte urbain de New York. Il peut être considéré comme une critique de l'enfermement et la domination du marché de l'art de New York.
L'œuvre Within and Beyond the Frame donne l'impression d'être raide, structurée et militante. Peut-être qu'après tout cette œuvre est plus proche des bannières de publicité ou des drapeaux que du linge. En comparaison, l'œuvre Structure étendoir de Dolla semble librement tenue et montre une chaleur et une poésie visuelle associées avec la beauté du quotidien. Je ne peux pas m'empêcher de penser qu'une fois une corde à linge devient la galerie, il n'y a plus de limites pour le peintre. L'artiste est libre.